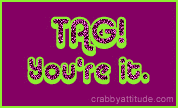 I have a wonderful friend named Amy, who tagged me and now I am wondering if she is as wonderful as I have always thought her to be. Just Kidding!!! Here it goes...
4 things I was doing 10 years ago... 1998
1. I was single and loving it.
2. My best friends and I were having a RIOT!!!
3. My kids and I lived in Roy.
4. I was working in the hospital library.
4 things I was doing 5 years ago... 2003
1. I had been married for 2 years and was still trying to figure the marriage thing out again.
2. I went from 2 children to 5 children so I was trying to be a mom to over double the children.
3. I worked at the same job that I do now.
4. I was preparing for girls camp because I was the camp director that year.
4 things I did yesterday...
1. I slept in late.
2. I layed out in the beautiful sun of St. George.
3. I played volleyball with my family.
4. I fixed a homemade dinner for Mallory - it was her request.
4 shows I like...
1. Young and the Restless
2. Dancing with the Stars
3. American Idol
4. The Bachelor
My 4 biggest joys of the moment...
1. Coming home from a wonderful weekend with Craig, the kids, and his parents.
2. My family!!!
3. My job.
4. My friends
5. The warmer weather!!!
Now, I have to tag 4 people - sorry - I am going to tag Nicole, Amanda, Jenny, and Shannon. I can't wait to read your answers.